ADVOCACY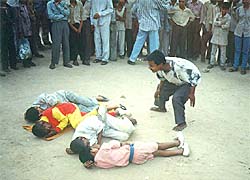 Street plays are performed regularly in different areas to sensitize the community. Puppet shows, Singing Debates and Painting are other media.

REHABILITATION.
Children are encouraged to reunite with their families. In case the child expresses the desire, the parents are informed and invited to visit. A counseling session is held with the parents to share observations and sensitize them to look into the possibilities of change in attitude. In such effort 35 children have gone back home.

AWARNESS PROGRAM
Collaboration with various agencies for sex education and psychosocial support.